Golf Course Wedding Venues in Scottsdale, Arizona
Looking For A Wedding Venue On a Golf Course?
Our wedding ceremonies take place in an exquisite venue located in the heart of Scottsdale, Arizona. Our Golf Course Venues have breathtaking views of the McDowell Mountains. It also has a lush green landscape, creating an ideal setting for a memorable ceremony.
Your wedding venue sets the tone for the entire day. At Orange Tree Golf Club, we have a plethora of ceremony and reception spaces and we are dedicated to making your dream day a reality.
North Scottsdale Wedding Venues
The venue offers an array of event spaces and packages to fit any budget. We can help you find the perfect space to say "I do" while celebrating with family and friends. This space can be either the grand ballroom or the outdoor patio.
Orange Tree offers beautiful wedding spaces both inside and outside. Get married on our lush golf course, full of magnificent views and greenery, it's the perfect backdrop for your ceremony and pictures.
Plan the reception of your dreams in our stunning Mariposa Grand Ballroom to give your big day that wow factor that you are looking for. Or if an outside reception is more your style, dance the night away under the stars on our patio reception area, a refreshing alternative to our ballroom. The possibilities are endless here at Orange Tree Golf Club. Inquire about booking your wedding with us today!
Let's Start Planning Your Dream Wedding.
Our Golf Course Wedding Venues
Mariposa Ballroom
The Mariposa Ballroom offers several other reception spaces and is one of the most magnificent features of the resort. It can accommodate up to 400 guests and offers a luxurious and spacious setting for your reception.
The ballroom has high-end audio and visual equipment. The venue's staff are experts in helping you create the right atmosphere for your special day.
Can accommodate up to 400 Guests
4988 Square Feet of Wedding Event Space
Great Option for large weddings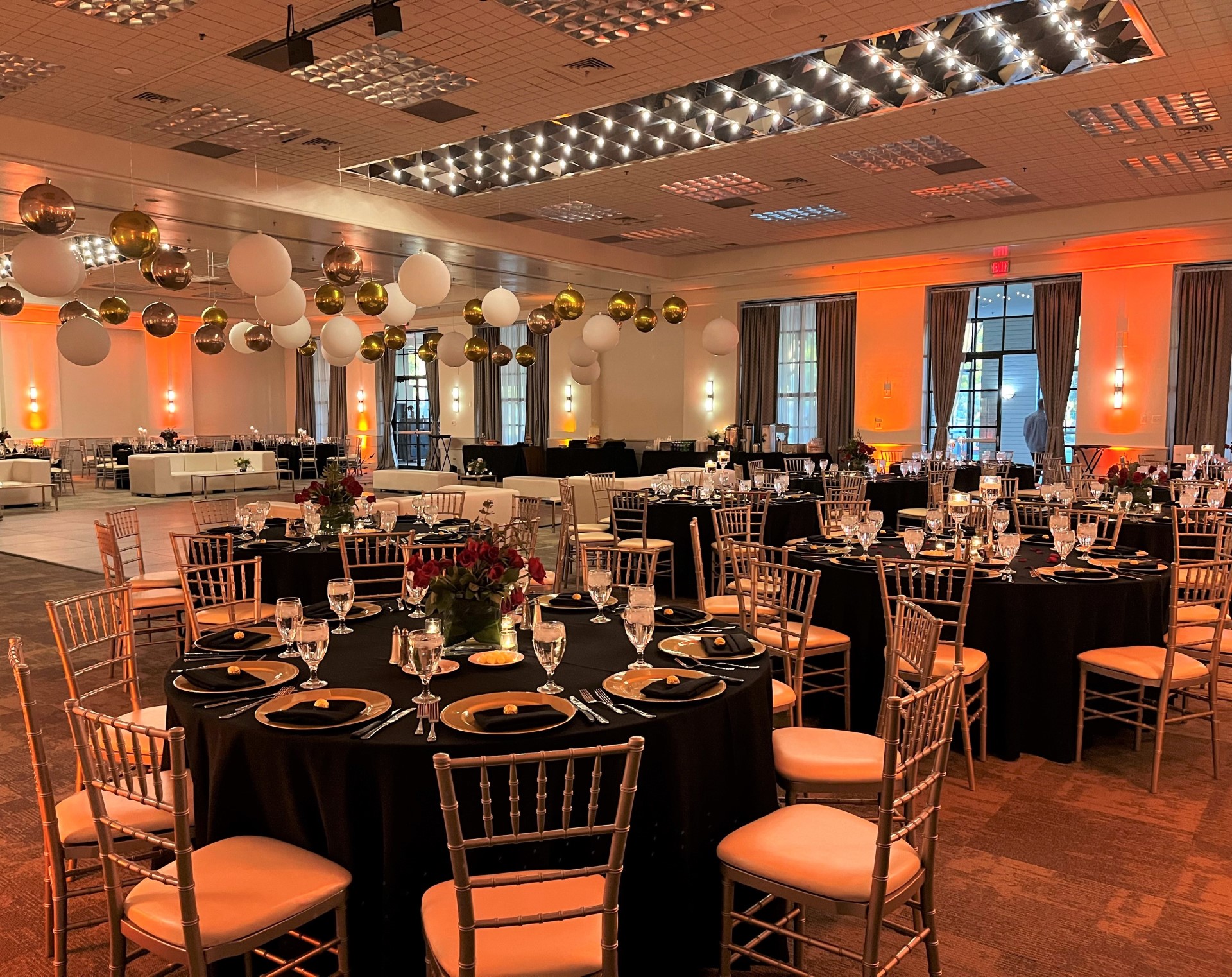 Grove Patio
In Arizona's pleasant weather, outdoor weddings are a beautiful option for your day. Orange Tree Golf Club is an oasis in the middle of Scottsdale that surrounds guests in the natural beauty of Arizona's unique scenery. Rolling hills of green grounds, shady trees, a large pond, and view of the mountains offer guests a variety of options for photos. Our wonderful staff ensures our grounds are landscaped and manicured regularly so no matter the season, your day is as idyllic as you imagined.
Orange Tree has two outdoor ceremony and reception spaces available for couples to choose from year-round. The Grove Patio overlooks our pool, impeccable grounds, and the focal point of the main ceremony space, our ornate gazebo. For cocktails, dinner, and dancing, the modern patio and lounge seating underneath a covered pavilion. The Grove Grille, the smaller of the two spaces, is ideal for intimate gatherings of close friends and family. The Grille is also a covered area with close-knit seating options that still allow guests to participate in the celebration freely.
Can accommodate up to 200 guests
Large, spacious, covered patio
Great option for small and large weddings
View Wedding Gallery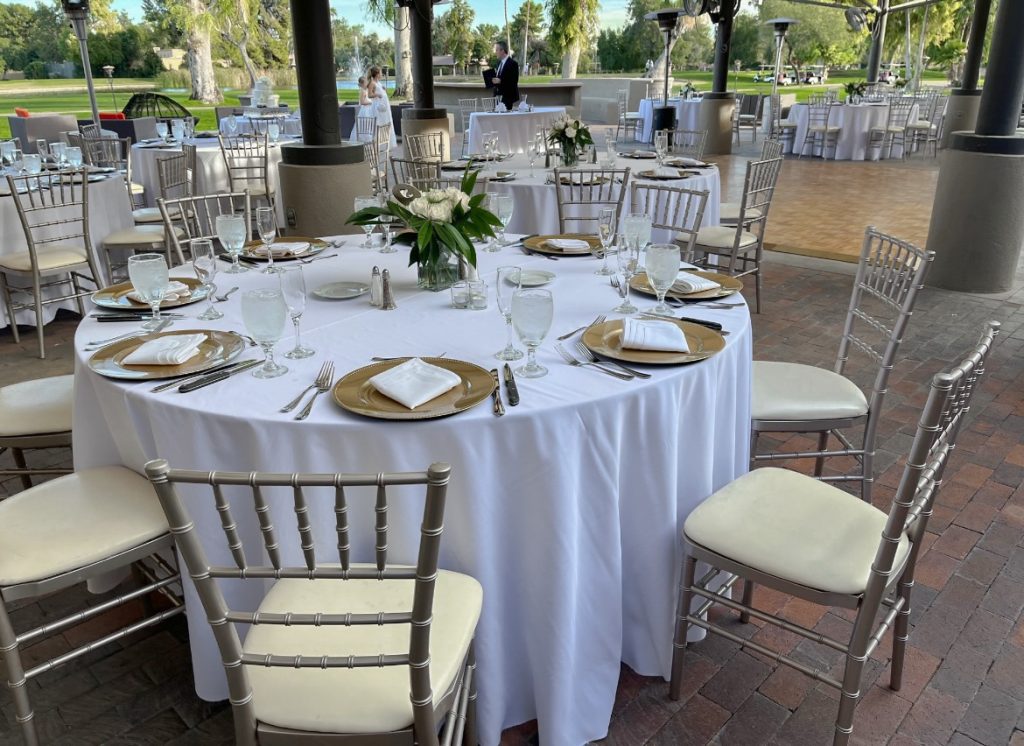 Large Wedding Event Space
This is a great option for large events, the celebration may be grand but the guest list is large to accommodate up to 200 guests. This venue option provides 3,052 sq ft of party venue space.
Can accommodate up to 200 guests
3052 Square Feet of Event Space
Great option for large wedding receptions
Small Private Wedding Venues
For smaller group event space we have our Capers Room that provides space for up to 60 guests.
Can accommodate up to 60 guests
Great Indoor Space for Private/Smaller Weddings
Schedule a Tour with us! Fill out this form and someone on our event staff will contact you shortly.
The Perfect Scottsdale Wedding Ceremony
Arizona golf resort weddings are the perfect picturesque ceremony location. We offer exceptional food and unparalleled service. We also have multiple reception spaces. This makes our ceremony site a top choice for couples wanting to get married in Scottsdale.
If you want your wedding to be truly special and an occasion to remember, why not choose to have it in a golf course setting? There are many benefits of choosing this option, such as:
 You can enjoy the scenic views of the greenery, the water features, and the sky. A golf course offers a natural and beautiful backdrop for your photos and videos.
You can save money on decorations, as the golf course already provides a stunning setting. You can also use the golf course's facilities, such as the clubhouse, the restaurant, and the bar, for your reception.
You can have fun with your guests, as you can play a round of golf before or after the ceremony. You can also offer golf-themed favors, such as personalized golf balls, tees, or towels.
You can have a flexible and customized wedding, as you can choose the time, the location, and the style of your ceremony. You can also work with the golf course's staff to plan the menu, the music, and the entertainment.
Getting married on a golf course is a great way to celebrate your love and your passion for golf. It is also a wonderful way to create lasting memories with your family and friends. So why not book your golf course wedding today?